Café corner
Enjoy a set of matcha and Japanese confectioneries within the store, along with our other menus as well.Soft serve ice cream, parfaits, and drinks, etc. are also available for take-out.
*Picture is for illustrative purposes only.
Sweets corner
Here you will find a wide selection of Japanese confectioneries that go well with tea, and sweets made of matcha.
Birouen's original sweets made from our organic sencha green tea and top-quality matcha have a tasteful depth that can only be created by tea specialists.
Teapots and Japanese accessories

We have a large selection of teapots,
teacups and furoshiki
(Japanese wrapping cloth),
along with tea incense burners and
seasonal Japanese accessories.
Tea ceremony corner
We provide a selection of instruments
needed for tea ceremonies,
including teacups and tea whisks.
Tea ceremony/kimono experiences
are also available upon request.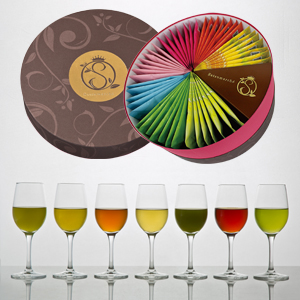 Satsumarché corner
A seven-flavor teabag giftset. The pairing
of the seven flavors with food is also one
of the delights of this set.
tea bottles with inner filters
Just add tea leaves and water and chill.
Enjoy cold tea with the same convenience
as drinking wine.
Gallery (Second floor)
This gallery can be used by individual
or group exhibits for the cherished
uniting of people to people,
and people to art.
Tea Ceremony Room (Second floor)
Tea ceremony classes are held
here periodically.
Tea ceremony/kimono experiences
are also available upon request.
---
Birouen
5-2 Nakamachi, Kagoshima-shi, Kagoshima, 892-0827
TEL: 0120-353-204 FAX: 0120-263-441
Hours: 10:00 am to 7:00 pm